The Best Winter Beers for 2019
November 4th 2019

| From

CraftMA1
The Best Winter Beers for 2019
As colder temperatures begin to set in across the country, your beer-drinking customers want to explore new styles typically associated with the winter months. Many of these brews offer a full, rich body and a thick mouthfeel or spicy character that's sure to warm your guests up. Barrel-aged beers are expected to be very popular this winter, thanks to their complex and nuanced flavors.
From doppelbocks and Russian imperial stouts to barleywines and Scotch ales, our list of the best winter brews will help you please your patrons while also increasing the diversity of your beer list. Additionally, you'll find delicious food and beer pairings that will help these winter brews stand out and taste even more delicious!
Doppelbocks
Bocks have a long and storied history that dates back to medieval times, although some scholars believe they were even brewed by earlier pagan societies. These brews are bottom-fermented lagers that require a few extra months of cold storage, which contributes to their smooth taste.
Doppelbocks offer enhanced malty flavors, an even more full-bodied mouthfeel, and higher alcohol levels than standard bocks, too. These beers are best enjoyed with red meat, pork, and sharp cheeses.
Give This a Try:
Tröegs Troegenator 

(Pennsylvania), 8.2% 
Russian Imperial Stouts
Often referred to as the king of stouts, Russian imperial stouts were originally created in the nineteenth century by brewers looking to curry favor with Queen Catherine II. These beers are top-fermenting ales that usually offer high alcohol by volume, low levels of carbonation, and burnt, malty flavors.
Most Russian imperial stouts also feature tastes of dark fruit and little to no hop character. Try serving these hearty brews alongside oysters, chocolate, and soft cheeses.
Give These a Try:
Founders Canadian Breakfast Stout (Michigan) 11.7%
Baltic Porters
During the eighteenth and nineteenth centuries, many Western European brewers began creating strong, robust porters to be shipped across the North Sea to the Baltic regions. These beers were often supplemented by the addition of stale ales, which added an acidic flavor that beer drinkers loved. Baltic porters are top-fermenting ales that offer a smoky, roasted, and malty character and full-bodied mouthfeel your guests will love. Consider serving them with barbecued meats, stews, and semi-hard cheeses.
Give This a Try:
Harviestoun Old Engine Oil 

(United Kingdom), 6% ABV
 
Barleywines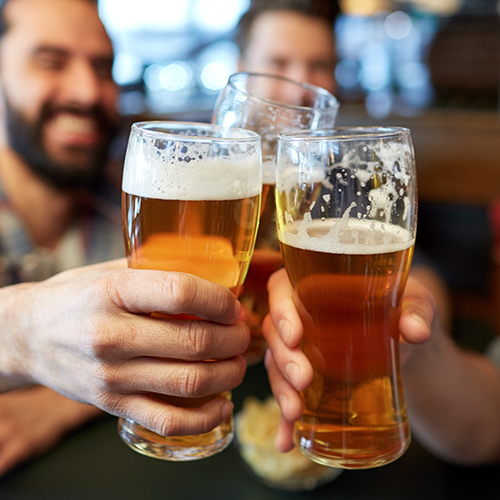 A barleywine is a style of strong ale that's typically characterized by high alcohol by volume, a bittersweet taste, and a thick, rich mouthfeel. These top-fermenting beers were originally brewed by the ancient Greeks, who stored their barleywine in silver and gold kraters.
While American-style barleywines are intensely hopped for a more bitter and hop-forward taste, English varieties tend to offer a more balanced combination of malt and hops. These beers are best enjoyed with cured meats, Italian food, and creamy cheeses.
Give This a Try:
Lagunitas Brown Shugga 

(Petaluma, CA), 10% ABV
Scotch Ales (Wee Heavys)
Scotch ales are top-fermenting brews that were originally served in small quantities (thus, the "wee heavy" nickname) for a few schillings in nineteenth-century Scotland. This style is boiled extensively in kettles, which creates toasty caramelization and sweet, full-bodied flavors. Many Scotch ales also offer higher alcohol by volume, making them perfect for cold winter days. Try serving these tasty brews with gamey meats, spicy foods, and creamy desserts.
Give These a Try:
Belhaven Wee Heavy (Scotland) 7.4% ABV
Winter Warmers
Winter warmers are top-fermenting ales that offer plenty of malty and sweet flavors alongside a balanced hop character. Many of these tasty brews are blended with spices, which give the style its trademark "warmth."
Traditionally, English strong ales and spiced Wassail beers fall under the umbrella of winter warmers, so be sure to keep plenty of these brews on hand during the winter months. Consider serving them with poultry, baked goods, and fruit.
Give These a Try:
Samuel Smith Yorkshire Stingo (United Kingdom) 8% ABV
From Baltic porters to spiced Wassails, our list of the best winter beers is full of uniquely delicious brews. Whether you run a brewery, craft beer bar, or upscale bistro, offering your customers plenty of winter beers to enjoy over the colder months will warm them up and increase your sales.
Fulmer, N. "The Best Winter Beers for 2019". WebstaurantStore. Food Service Resources. Seasonal Bars & Breweries. Nov. 4. 2019. Retrieved from: https://www.webstaurantstore.com/blog/1562/best-winter-beers.html